Dryland Plants
We have, over time, chosen to concentrate on growing the best of the seed collections from Western North America, the Middle latitudes of near Asia (Turkey and the Caucasus), and recently, the wonderful new collections from Western China. These areas have conditions similar to our own—a drier, continental climate with winter cold and summer heat. We persistently pore through the seed lists in search of drought-tolerant plants; they adapt well to rock gardens and troughs, both of which receive less water and are open to the elements. Our efforts over the past year have yielded over 150 new listings, a few of which I would like to highlight—they are as follows: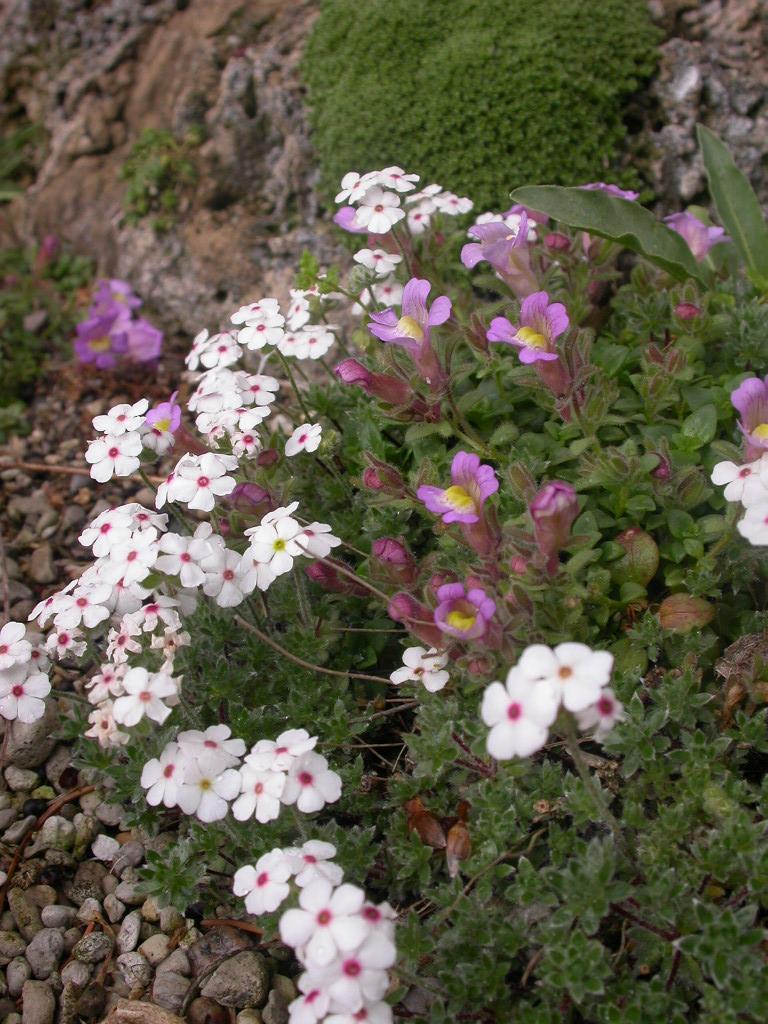 Androsace - Among Androsace spp. the members of the A. villosa group provide many drought-tolerant long-lived specimens. A. jaquemontii, an intermediate-sized plant, has rich pink flowers and its culture is very easy. Forms of A. villosa are numerous and all are compact and free-blooming. A close relative, A. barbulata, is a particular favourite that I have in a trough. They are all slow-growing, gradually forming larger, tight buns or custom-fitted mats. The list of new Androsace from China numbers almost a dozen. Most of these are from drier sites and are more suitable for our growing conditions. There is a wonderful variation in size, flower and texture, and one is a newly described species.

Anthemis cretica spp., leucanthemoides - Mat formers are always useful for ground cover and background, but overly aggressive plants ought to be avoided. This year we have a new collection of Anthemis cretica spp. leucanthemoides whose silvery cushions are completely prostrate and slow growing. I like anthemis spp. in general for their easy care, finely cut leaves and decent flower display. A. leucanthemoides is a beautiful addition.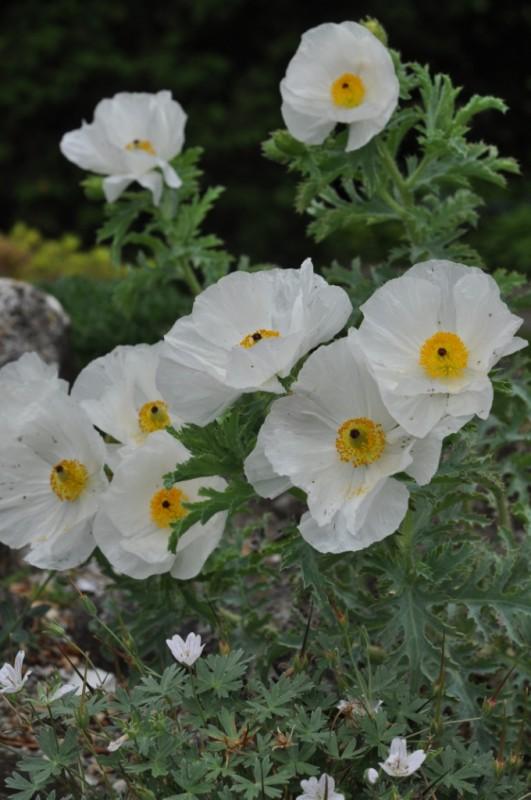 Argemone hispida - The genus Argemone is a close poppy relative, native to the American West. A. hispida is probably the most compact species. Its branches are semi-procumbent and ultimate size is ~ 60cm x 50cm high. The exquisite translucent white flowers with golden centres adorn it throughout July, August and part of September. They are very lovely in an open, windy and rocky site.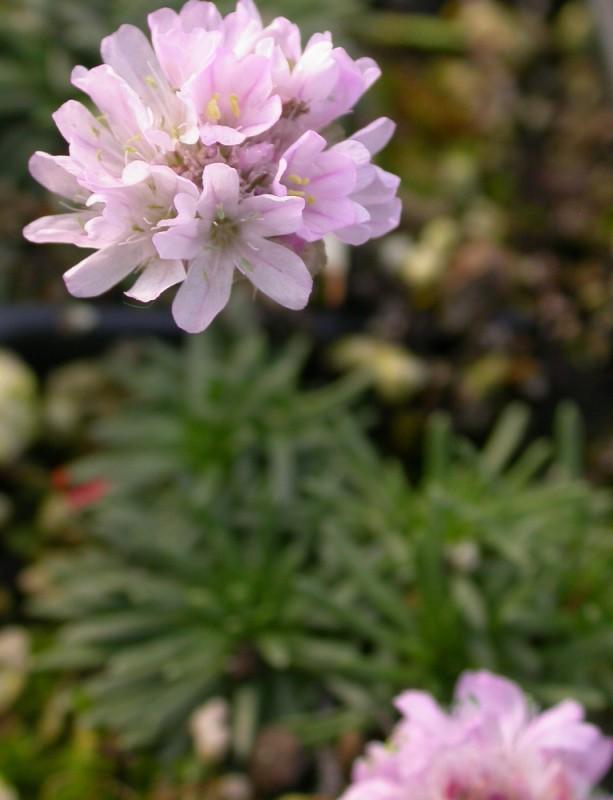 Armeria trojana - For plants that are dwarf buns or clumps, Armeria trojana is most striking. It is about the same size as A. juniperfolia, but the leaves are a bit wider with blunter tips. It also flowers for an extended period.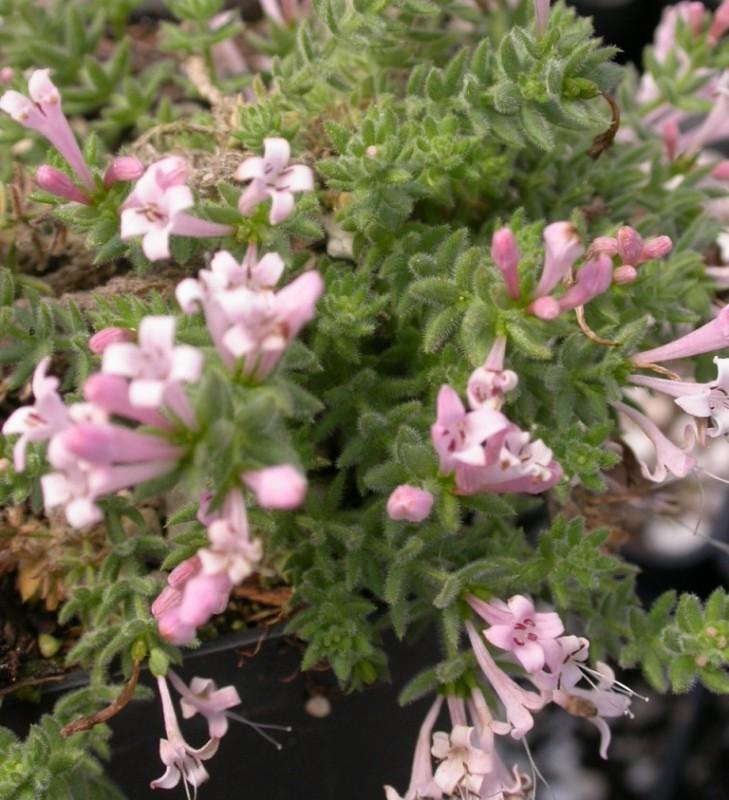 Asperula spp. - A favourite. The newcomer, A. arcadiensis, forms woolly mats tumbling over the rocks. It produces masses of pink tubular flowers in June, and wants only a dry place in the sun and wind.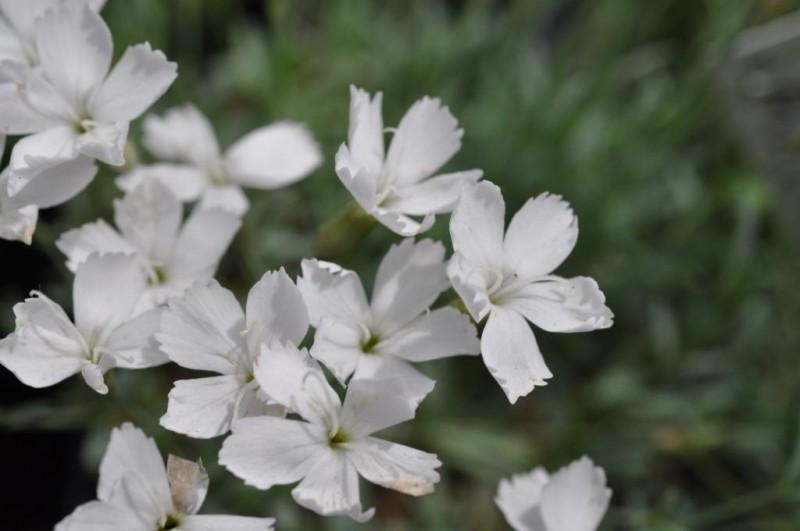 Dianthus x 'white crown' - There are so many Dianthus cultivars, the eyes glaze over. This selection is from a chance seedling in our garden. It has very compact mounds of short, blue needles somewhat between D. microlepis and D. brevicaulis—exact parentage is unknown. Large stemless white flowers cover it in May/June.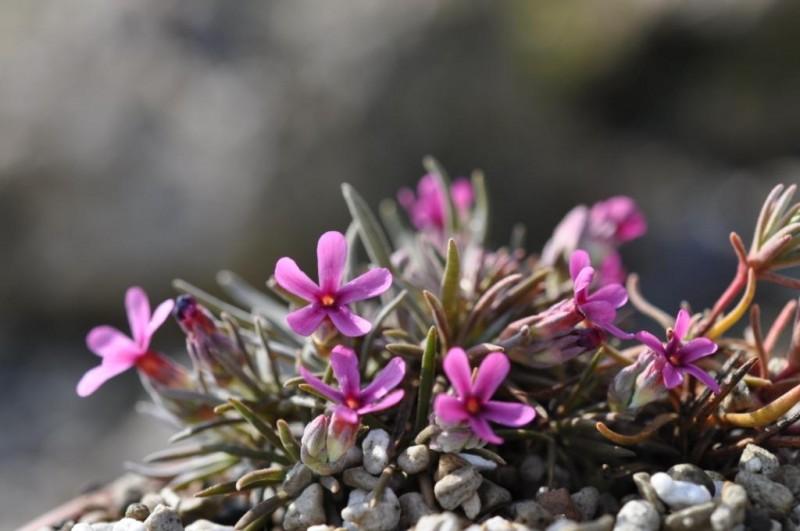 Douglasia nivalis f. chumsitck - On our own continent, this is an easier-growing collection of this vivid flowering Androsace relative—a real attention grabber with abundant flowers of dark pink.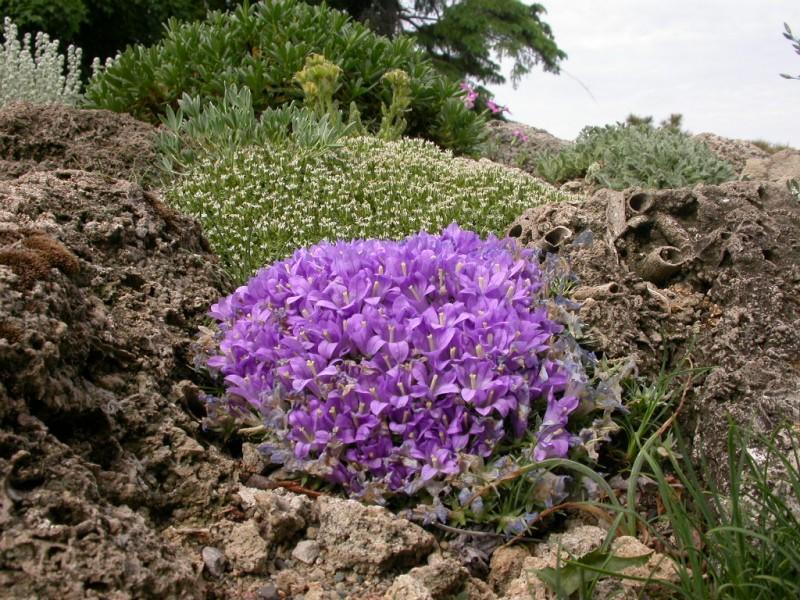 Edraianthus - A genus split off Campanula, they do surprisingly well in a dry garden. A tiny species, E. pumilio, carries oversized rich, purple trumpets in May/June, borne closely to its miniature tufts—the leaves are simple and thread-like with a glistening silver sheen. E. serpyllifolius, equally dwarf with broader, dark green leaves has beautiful, dark violet flowers. Both plants do well in hot, dry conditions so we grow them directly on tufa, which intensifies their features.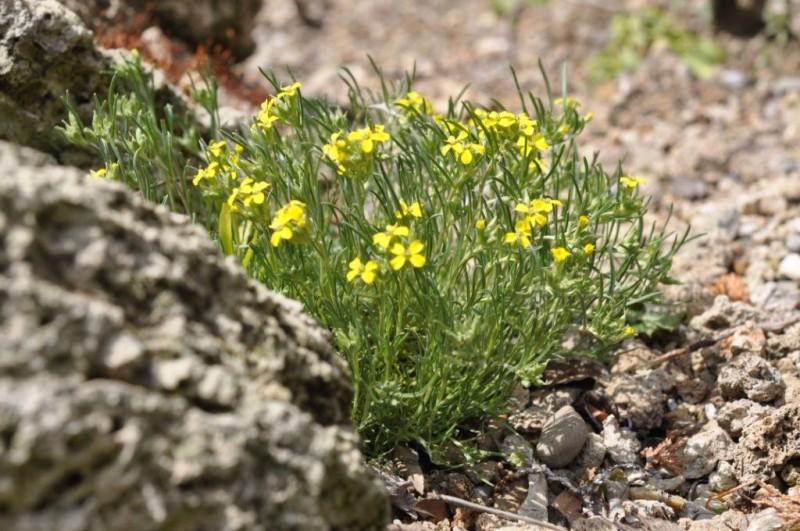 Erysimum - "Wallflower"—the perfect moniker for Erysimum—but what surprises there are here. Members of Brassicaceae, all of them have sweetly scented flowers. Foliage and structure vary a lot. Among the ones suitable for trough gardens, E. pulchellum and E. kotchyananum provide dense, dark green cushions that are small and cordial enough to intergrow with others. An exciting new comer is E. caricum, from a wild collection on Bakir Dag, Turkey. It caught my eye when it first germinated; then as it progressed in the seed pots, I thought it must be a Festuca, so fine and thin were the leaves—like miniature spears. It is unlike any others we have and I am sure it will be a sell-out. It is perfect for a trough and we will try it on tufa.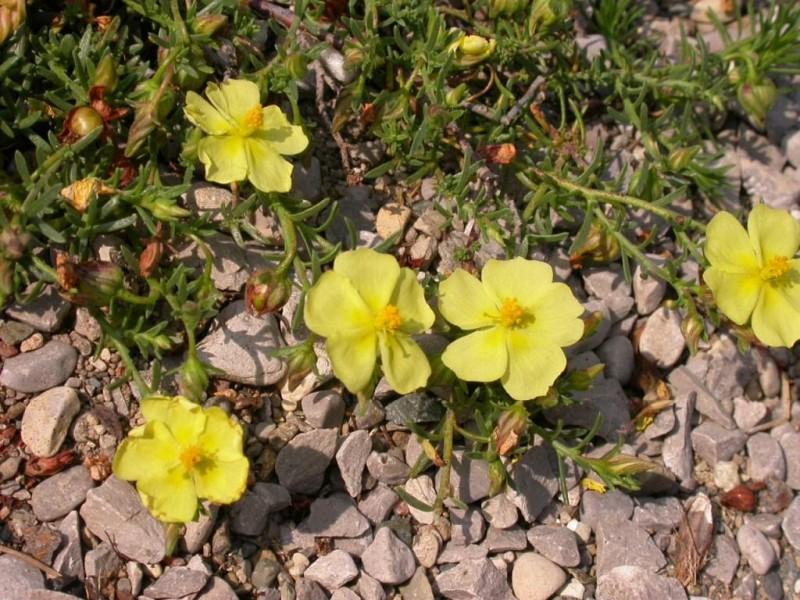 Fumana - A genus of Rosaceae, somewhat like a small, sprawling Cistus or Helianthemum. By chance, we raised some seedlings of an unknown species from Tadjikistan, a Halda collection. Perfectly flat, it spreads before the sun, mimicking it with large stemless yellow saucers sitting among the leaves in summer. Rain brings sporadic re-blooming in the season.
Incarvillea compacta - Returning to China, we are pleased to have this very dwarf incarvillea, which erupts from the earth with huge trumpets of rich pink.
Leontopodium spp. - Very different are the various Leontopodium spp.—the smaller ones have very silvery leaves and lovely little white straw flowers.
Paeonia tenuifolia - Perfect for rock gardens although needs additional space. Our plants are seedlings from a dwarf, but vigorous, Halda collectiona savanna form that has finely divided leaves and is very drought and heat tolerant. It is also a heavy bloomer.
Penstemon davidsonii - The phrase "sub-shrubby Penstemon," brings P. rupicola to mind; but it can be slow to settle down in a garden. P. davidsonii selections comply immediately and the evergreen mats are a joy at anytime. Its flowers are also very attractive. Overall, P. davidsonii is an excellent selection for trough planting.
Phloxes - At times dismissed either as another garish P. subulata cultivar or an intractable western species. Not so! Phlox pulvinata, from a Wyoming collection of Alan Bradshaw, comes in varied shades of blues—and its dense, thread-like cushions maintain a neat character throughout the year. Another plant, P. pungens, which we received from Rick Lupp, has amazed us with its profusion of large blue stars over a very long period. The needle-like leaves are arranged in loose mats that, again, maintain colour and growth even in very dry conditions. This is a first-rate western Phlox.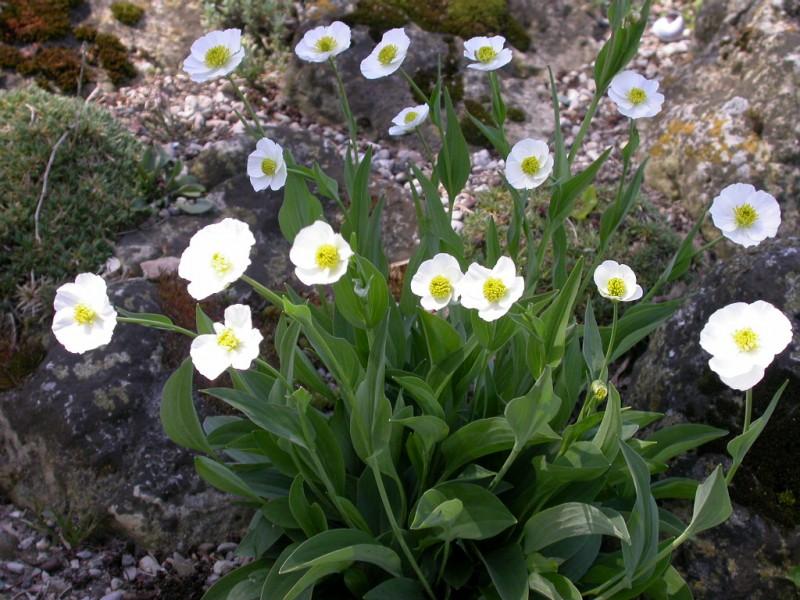 Ranunculus pyrenaeus - A mid-sized clump former, it has grown well for us for a number of years. The large, papery, 2cm white saucers break through the blade like leavesan effective accent plant.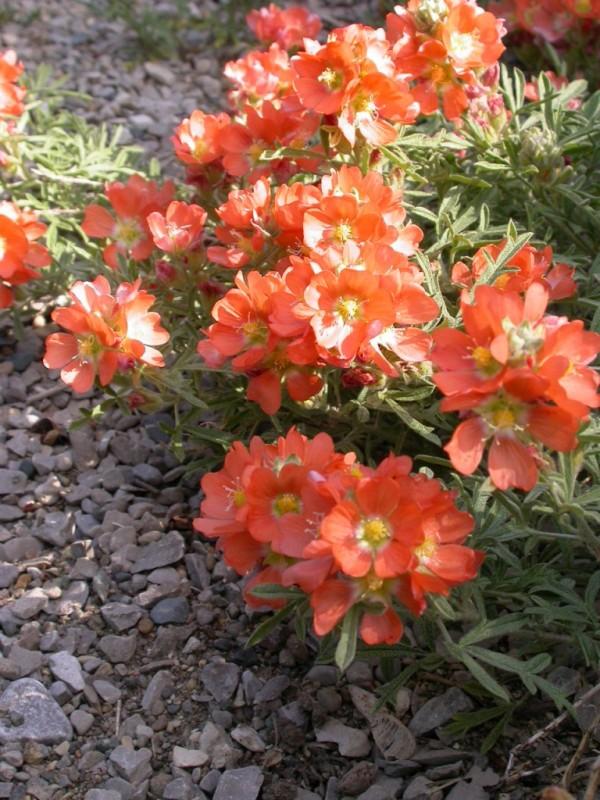 Sphaeralcea - Recently at a plant sale, a customer bought a pot of Sphaeralcea coccinea. She remembered it from the prairie in Saskatchewan where she grew up and was so happy to see it again. Prevalent as it is, there is a lot of variation in its growth habit, with some forms being more restrained than others. Our smallest form, from Stavely, Alberta, is short in spread and filled with those incredible salmon/orange flowers in summer over a much divided bluish-gray background of leaves. Incredibly drought tolerant, it grows easily here.
Teucrium polium - For a woolly, textured effect, the two Teucrium polium selections provide silver or golden foliage. In addition, the leaves are fragrant.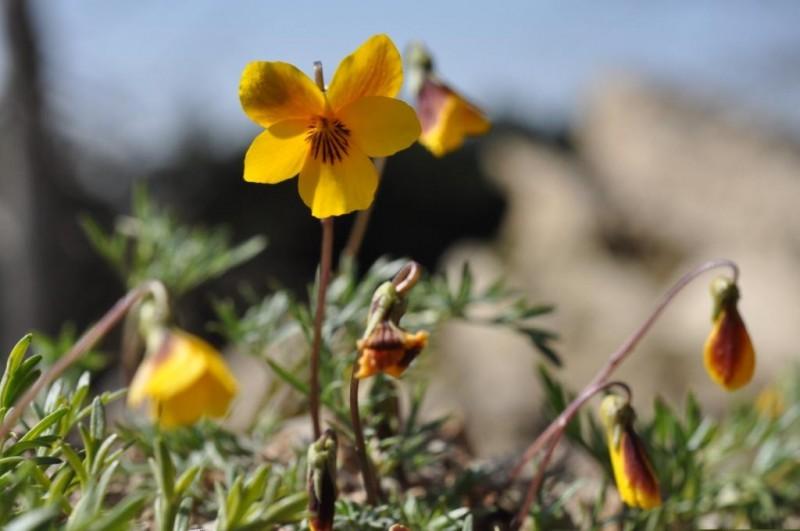 Viola douglasii - This is one of the easier western violets and its golden flowers are very showy. It grows in vernally wet grasslands and takes well to scree gardens.
Waldheimia - (Google image search) From the alpine screes, there are two different Waldheimias, not at all alike. The large, purple, daisy-like flowers are drop-dead gorgeous!
As I write this in late November the days of heat and drought are past and the winter rain and snow have arrived along with the seed lists of the intrepid Czechs. Already we have been reading, researching and selecting for the next flush of seedlings. The new collections are exciting for us and we hope you too will be tantalized.
(2008 Catalogue Introduction)